1x630mm2 Cu/XLPE/PVC(CXV), 0.6/1 kV XLPE Cable 630mm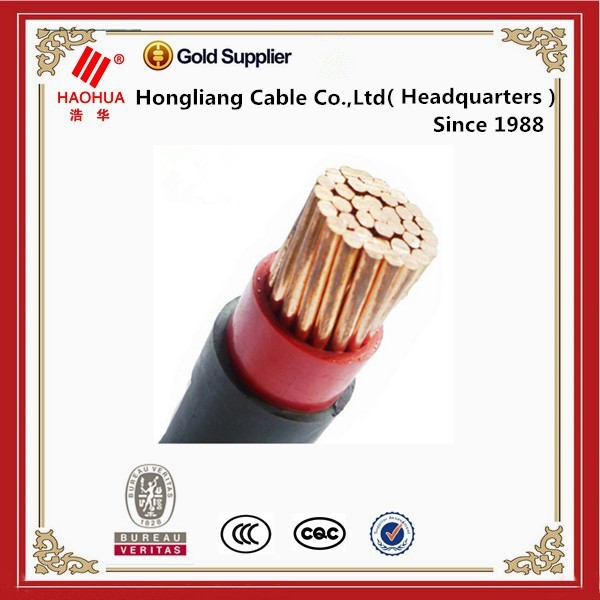 | | |
| --- | --- |
| Port: | TIANJIN |
| Payment Terms: | L/C,T/T,Western Union,MoneyGram |
| Supply Ability: | 5000 Kilometer/Kilometers per Month |
| Place of Origin: | Hebei China |
| Brand Name: | HAOHUA--xlpe cable 630mm |
| Model Number: | xlpe cable 630mm |
| Insulation Material: | XLPE |
| Type: | Low Voltage |
| Application: | Construction |
| Conductor Material: | copper or Aluminum |
| Jacket: | PVC |
| Type: | Cu /XLPE/PVC/SWA/PVC, Cu or Al/XLPE/LSZH, Cu /XLPE/LSZH/SWA/LSZH, |
| Voltage for xlpe cable 630mm: | 0.6/1 kV |
| Range of Nominal cross section: | 1.5 mm2 ~ 630 mm2 |
| Application: | electrical power transmission and distribution lines |
| Standard: | IEC 60502, BS 7870 |
| Conductor: | Class 1/2 annealed bare copper solid or strands |
| Armour: | Steel Wire Armour or Steel Tape Armour |
| Max. Operating Temperature: | 90 ℃, can be 105 ℃ and 110 ℃ as per requirement |
| Remark: | be of flame retardant, fire resistance, environment friendly or other |
| Sheath: | PVC, PE or LSZH |
| Delivery Detail: | xlpe cable 630mm with prompt delivery . |
| Packaging Detail: | xlpe cable 630mm will be packed in professional method , pls dont worry. |
xlpe cable 50mm 1x50mm2 Cu/XLPE/PVC(CXV), 0.6/1 kV
Double Indemnity Clause !
1 Product Information for xlpe cable 630mm
Type : Cu/XLPE/PVC
Designation : Copper conductor xlpe cable 630mm
Suitable For : laying in doors, in tunnels and in cable trench, unable to bear external mechanical forces. Single core cable in magnetic duct is not permissible.
2 Standard for xlpe cable 630mm
The product is manufactured according to the standard of GB/T12706—2002 or
IEC and BS and DIN and ICEA.
3 Application for xlpe cable 630mm
xlpe cable 630mm is suitable for power transmission and distribution lines with rated voltage
up to including 0.6/1kV.
4 Operating characteristic for xlpe cable 630mm
Rated power frequency voltage U0/U: 0.6/1kV
Max. admissible operating temperature of conductor : 90℃
Max. Short-circuit temperature of the conductor shall not exceeding 250℃.(Max. sustaining period not exceeding 5S).
The installation temperature should not be below 0℃.
The bending radius of cable should not less than 15 times.
The flame-retardant properties of cable comply with grade A ,B or C of GB/T 19666-2005
The Text Voltage(ac.): 3.5kV/5min
5
Technical parameters sheet
1Cx630mm2 Cu/XLPE/PVC, 0.6/1 kV (0.5kV)
No.
Description
Unit
Particulars
1
Size
1C x 630mm2
2
Applicable Standards
–
IEC 60502
3
Rated Voltage
kV
0.6/1kV
4
Conductor
4.1
Number of cores
No.
1
4.2
Material
–
Class 2 Stranded Plain Annealed Copper
4.3
Nominal area
mm2
630
4.4
Number and diameter of individual wire
No./mm
61/3.75
4.5
Max. DC resistance of conductor at 20℃
Ω/km
0.0283
5
Insulation
5.1
Material
–
XLPE
5.2
Nominal insulation thickness
mm
2.4
5.3
Minimum insulation thickness
mm
2.06
5.4
Core identification
A
Natural
B
As Required
6
Outer sheath
6.1
Material
–
PVC
6.2
Nominal sheath thickness
mm
2.2
6.3
Minimum sheath thickness
mm
1.77
6.4
Color
Black
7
Overall diameter of the cable
mm
39.1
8
Minimum Bending radius
mm
586.5
9
Cable Weight approx.
kg/km
6220
10
AC Test voltage (No breakdown)
kV/5min
3.5
11
Maximum allowable conductor temperature at full load and short circuit condition
℃
90/250
12
1. Parameters can be changed according to your requirement such as color of insulation or others.
2. Parameters may be a little different due to other factors in the process of production.
5.5 If you didn't find the xlpe cable 630mm you want , pls feel free to contact me .
I would like to recomend you a suitable xlpe cable 630mm for you .
Hope our xlpe cable 630mm can meet you demand.
6 Ralated Products Pictures For xlpe cable 630mm :
7 Customised your packing request for your wanted xlpe cable 630mm
Tags:
xlpe cable 630mm
Contact us