Hot-selling 300/500V PVC flexible power cable electrical wire building wire for household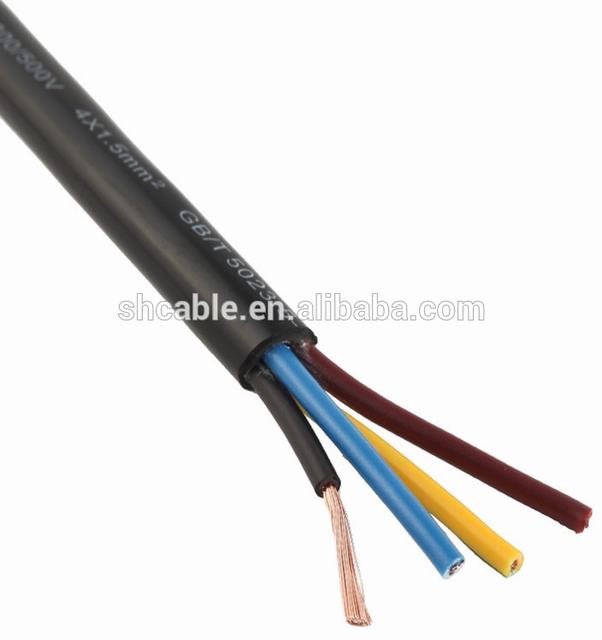 | | |
| --- | --- |
| Port: | Copper Conductor Material control cables Qingdao, China |
| Payment Terms: | L/C,T/T |
| Supply Ability: | 300 Kilometer/Kilometers per Month |
| Place of Origin: | Henan China |
| Brand Name: | SANHENG |
| Model Number: | RVV |
| Type: | Insulated |
| Application: | Heating |
| Conductor Material: | Copper |
| Conductor Type: | Stranded |
| Insulation Material: | PVC |
| Flexible Cable CE: | Flexible Cable CE |
| Color: | White black others |
| Certification: | CCC |
| Conductor: | Stranded Copper |
| Name: | H05VV-F Cable |
| Jacket: | PVC |
| Rated Voltage: | 300/500V 450/750V |
| Sheath: | PVC Compounds 3V90 |
| Standard: | IEC60502 |
| Brand: | SANHENG |
| Packaging Detail: | Copper Conductor Material control cables 100 or 200 meters per coil, or as per buyer's requests |
Hot-selling 300/500V PVC flexible power cable electrical wire,auto eletric wire and cable,building wire for household
H03VVH2-F H03VV-F H05VVH2-F H05VV-F PVC sheathed flex. cable
Conductor
Finely stranded Copper conductor, bare, conductor category 5
Insulation & sheath
PVC
Nominal voltage U0/U
H03VVH2-F H03VV-F 300/300V
H05VVH2-F H05VV-F 300/500V
Temperature at continuous load
+70°C
No. of cores* nominal

cross section

No. of individual wires/diameter

Wall thickness

Wall thickness of sheath

Outer dimension or outer diameter

Min. Max.

mm2

mm

mm

mm

mm

H03VVH2-F

2*0.5

16/0.20

0.5

0.6

3.0*4.9

3.7*5.9

2*0.75

24/0.20

0.5

0.6

3.2*5.2

3.8*6.3

H03VVH-F

2*0.5

16/0.20

0.5

0.6

4.6

5.9

2*0.75

24/0.20

0.5

0.6

4.9

6.3

3*0.5

16/0.20

0.5

0.6

4.9

6.3

3*0.75

24/0.20

0.5

0.6

5.2

6.7

H05VVH2-F

2*0.75

24/0.20

0.6

0.8

3.7*6.0

4.5*7.2

2*1

32/0.20

0.6

0.8

3.9*6.2

4.7*7.5

H05VVH-F

2*0.75

24/0.20

0.6

0.8

5.7

7.2

2*1

32/0.20

0.6

0.8

5.9

7.5

2*1.5

30/0.25

0.7

0.8

6.8

8.6

2*2.5

49/0.25

0.8

1.0

8.4

10.6

3*0.75

24/0.20

0.6

0.8

6.0

7.6

3*1

32/0.20

0.6

0.8

6.3

8.0

3*1.5

30/0.25

0.7

0.9

7.4

9.4

3*2.5

49/0.25

0.8

1.1

9.2

11.4

4*0.75

24/0.20

0.6

0.8

6.6

8.3

4*1

32/0.20

0.6

0.9

7.1

9.0

4*1.5

30/0.25

0.7

1.0

8.4

10.5

4*2.5

49/0.25

0.8

1.1

10.1

12.5

5*0.75

24/0.20

0.6

0.9

7.4

9.3

5*1

32/0.20

0.6

0.9

7.8

9.8

5*1.5

30/0.25

0.7

1.1

9.3

11.6

5*2.5

49/0.25

0.8

1.2

11.2

13.9
Packaging & Shipping
Package:
1) Packing length:100 to 1,000m reeled in carton drum or according to customers' requirement
2) Outer packing: wooden case, carton box
3) Other packing requirement according to client's request
Company Information
Established in 2000, Henan San Heng Industrial Co., Ltd. with those years' unremitting efforts and endeavors, has achieved sound cooperation and widely compliments from the clients throughout our country and all over the world by superior quality, reasonable price and sincere services.
Our products are mainly covering PVC cables .building cables, XLPE insulated power cables, PVC insulated power cables, aerial-bundle cables, PVC insulated wires, control cables, rubber cables, bare conductors, welding cables, and other related products.
Main Markets: Domestic market, Africa, Eastern Europe, Southeast Asia.
Our Customers
Director Mr. Lee together with all staff members sincerely welcome your visit and guidance at anytime!
FAQ
1.Can you provide Type Test Reports?
A: Yes we can provide type test reports issued by Chinese laboratories.
2. Can we represent SANHENG Cable to bid?
A: Please check it with us if we have authorized any other company in your country already.
3. Have you ever supplied cables to our country?
A: Cables have been supplied to many countries across the world such as USA, Australia, Switzerland, Singapore, Sri Lanka, the Philippines, Mongolia, UAE, Yemen, Iran, Iraq, Nigeria, Egypt, Lesotho, Cameroon, etc.
4. According to which standards can SANHENG Cable produce cables?
A: IEC, BS, etc
OEM Service
Why you choose us?
1) Your inquiry will be replied to within the hour
2) Your label design according to your requirements ready in 2 days
3) 16 years OEM/ODM experience
4) Goods are sold with rerun or refund guarantee due to quality issue!
5) prompt shipment by reputed shipping line and professional documents
6) cargoes photo before and after loading into container after shipment with e-mail
7)15 years after-sale service
Certifications
Our products have been repeatedly tested by National Ministry of Electrical Material Test Center, National Electric Wire and Cable Supervision & Inspection Center and Wire and Cable Products Supervision & Inspection Center of Henan province to be Qualified Products. We have got China electical products safety certification and in accordance with the IEC standard.
Contacts Person
If you have any problem , please don't hesitate ro contact us.Your inquiry is welcomed at anytime.
we are confident to render our best service to you with promptness & efficiency.
Tags:
auto eletric wire
,
Building Wire
,
pvc flexible power cable
Contact us
You May Like