450/750V thermoplastic insulated cable with best price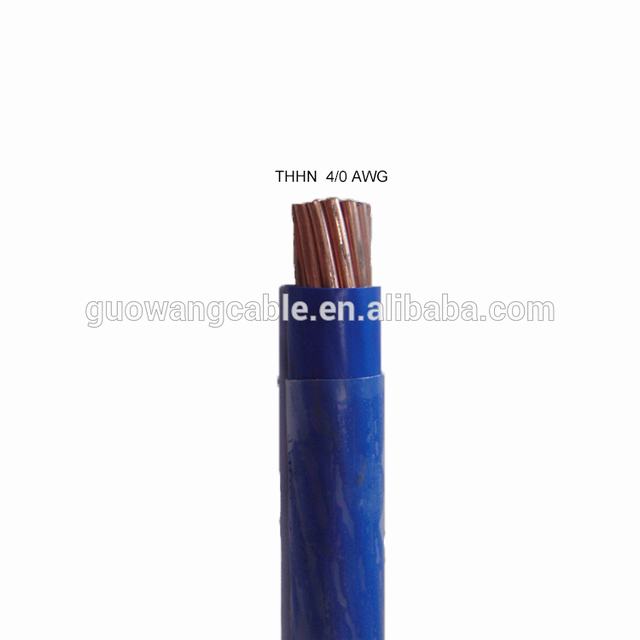 | | |
| --- | --- |
| Port: | Qingdao/Shanghai |
| Payment Terms: | L/C,D/A,D/P,T/T,Western Union,MoneyGram |
| Supply Ability: | 100 Kilometer/Kilometers per Month |
| Place of Origin: | China |
| Brand Name: | Guowang |
| Model Number: | THHN THWN |
| Insulation Material: | PVC |
| Type: | Low Voltage |
| Application: | Construction |
| Conductor Material: | Copper |
| Jacket: | Nylon |
| Voltage: | 450/750V |
| Copper Type: | Solid Stranded |
| Standard: | ASTM IEC |
| OEM & ODM: | Yes |
| Certificate: | ISO90001, ISO140001,CCC, CQC |
| Color: | blue,red,black etc |
| Sectional area: | 0.5-16sqmm |
| Wire sample: | free provided |
| Size: | 4 awg, 6 awg, 8 awg, 10 awg, 12 awg |
| THHN Cable price: | factory cheapest price |
| Packaging Detail: | roll/ wooden drum or according to the customers' requirements. |
450/750V UL thermoplastic insulated cable with best price
THHN/THWN/THW
UL listed PVC/thermoplastic-insulated 8awg 10awg 12awg electric wire THHN/THWN/THW
Thermoplastic-insulated wire is rated 600 V and is designated as follows:
TW — Indicates a single conductor having flame-retardant, moisture-resistant thermoplastic insulation. The wire is rated 60°C wet or dry.
THHN — Indicates a single conductor having flame-retardant and heat-resistant thermoplastic insulation with a jacket of extruded nylon or equivalent material. The wire is rated 90°C dry only.
THW — Indicates a single conductor having flame-retardant, moisture- and heat-resistant thermoplastic insulation. The wire is rated 75°C wet or dry.
Specific size
Item Spec.
AWG SIZE
No./Diameter of conductor
(mm)
Insulation thickness
(mm)
Max.outer diameter (mm)
Ref .Weight(km/kg)
THW-16B
16
7/0.49
0.76
2.8
19
THW-14B
14
7/0.62
0.76
3.4
29
THW-12B
12
7/0.78
0.76
3.9
42
THW-10B
10
7/0.98
0.76
4.5
62
THW-8B
8
7/1.23
1.14
6
103
THW-6B
6
7/1.56
1.52
7.8
169
THW-4B
4
7/1.96
1.52
9
249
THW-3B
3
7/2.20
1.52
9.7
306
THW-2B
2
7/2.47
1.52
10.5
376
THW-1B
1
19/1.68
2.03
12.5
487
THW-1/0B
1/0
19/1.89
2.03
13.6
600
THW-2/0B
2/0
19/2.12
2.03
14.7
739
THW-3/0B
3/0
19/2.38
2.03
16
912
THW-4/0B
4/0
19/2.67
2.03
17.5
1130
THW-16A
16
1/1.29
0.76
2.9
19
THW-14A
14
1/1.63
0.76
3.2
27
THW-12A
12
1/2.05
0.76
3.6
39
THW-10A
10
1/2.59
0.76
4.1
59
THW-8A
8
1/3.26
1.14
5.6
98
Company Information
As one of top rank cables manufacturers in China, henan guowang cable Co.,LTD is mainly specialized in PVC Insulated Building Wire, PVC and XLPE Insulated Power Cable with Voltage up to 35kV, Rubber Cable and Welding Cables. And also it is specialized in Aerial Bundled Cable(ABC Cable), Bare Overhead Power Transmission Line such as All Aluminum Conductor(AAC Conductor), All Aluminum Alloy Conductor(AAAC Conductor), Aluminum Conductor Steel Reinforced(ACSR Conductor), Aluminum Conductor Aluminum Clad Steel Reinforced (ACSR/AW), All Aluminum Alloy Steel Reinforced(AACSR), and Aluminum Conductor Aluminum Alloy Reinforced(ACAR).
Our Services
1.Our Team
Our team members are the strongest pillars of the group, whose diligent efforts have enabled us to become a reputed supplier.
* Technical consultant
* Designers
* Quality controllers
* Marketing and salesmen
* After sale service personnel
2.Quality Control
Being a qualityorientd organization, we strictly adhere to quality standards and achieve total excellence in our range of machinery.
Our experienced quality controllers handcheck every machine using advanced testing facilities and ensure all the machines complies with the international quality standards
Our advanced technology and engineering excellence has enabled us to cater the needs of our esteemed clients. We have received consistent acceptance and appreciation for our highly durable machines.
3.Timely Delivery
We are well supported by a spacious storage of machines and ancillary equipment, ensuring ontime delivery of every order. Our ability to feed bulk orders within tight deadlines to any corner of the globe differentiates us from other competitors.
FAQ
1. What kinds of products does Guowang Cable manufacture?
1)Bare Conductor ,such as AAC,AAAC,ACSR,ACAR,AACSR,ACSR/AW and so on;
2)Aerial Bundled Cable (1kV-35kV ),such as Duplex,Triplex,Quadruplex Drop Wires and so on;
3)PVC Insulated (Flexible ) Wire ;
4) PVC Insulated and Sheathed (Armoured) Power Cable;
5)Low, Medium, High Voltage (1kV-220kV) XLPE Insulated (Armoured) Power Cable;
6)Welding Cable, Control Cable, Concentric Cable, Rubber Sheathed Cable and so on;
2. What kind of certifications do you have?
SABS, CE, ISO9001-2000, SGS ,BV Certificated from alibaba.
3.Which markets do you involve mainly in?
Our products have been exported mainly to Africa, Middle East, South-east Asia, South America,Central America,North America, Europe,Australia, etc.
4. Which standards do you comply with when you produce the electrical wires and cables ?
We are able to produce electrical wires and cables based on GB, JB,IEC, BS, DIN, ASTM, JIS, NF, AS/NZS, CSA, etc. Meanwhile, we can design and manufacture the cables according to the samples and technical specification the customer supply.
5. What is the min.order quantity ?
It depends on the type and size of electrical wires and cables. For some small electrical wires, 100 meters can be accepted .But for the power cables with medium or high voltage, that should comply with the property of installed equipments. Anyhow,we will try our best to solve the problem and meet with the requirement If you have special request.
6. Do you supply the customers with installation service in foreign country ?
We don't have professional installation teams in foreign country.But if that is necessary, we will recommend our partners to cooperate with you.
Contact ways:
Tags:
12 awg THHN THW wire
,
thermoplastic insulated cable
,
THHN\/THWN Cable
Contact us